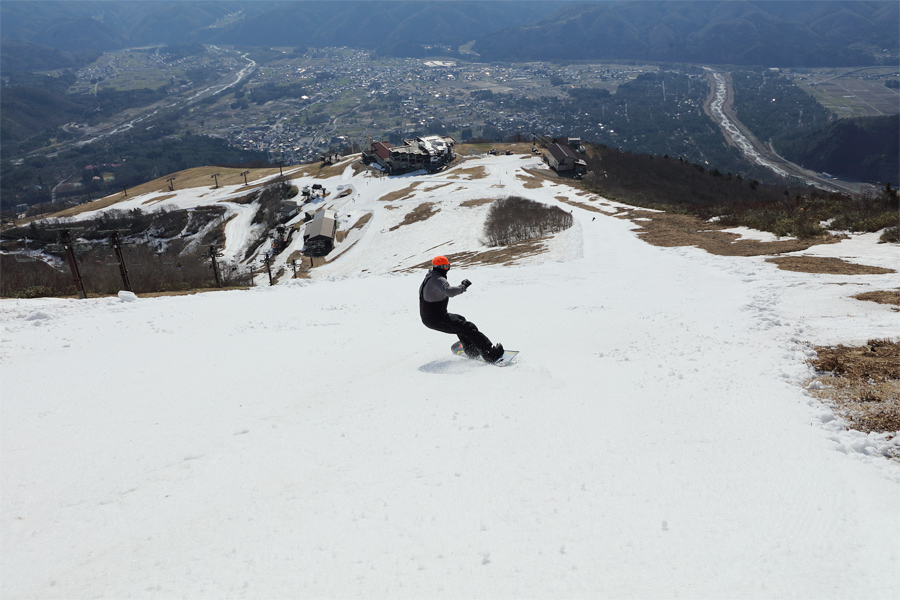 This winter's resort reports, which began on 10/7 (Fri.) of last year for Happo, have reached their final installment of the season. With the Panorama Course (pictured, background) closing, and only the Usagidaira (pictured) and Kurobishi slopes remaining open as of 4/22 (Sat.), 1-day tickets are now discounted to ¥4,000 for adults, and ¥1,000 for children aged 6 to 17. (*Tickets are free for children under 6 years old, and are available only at the gondola base station ticket center.)
[Usagidaira Slope]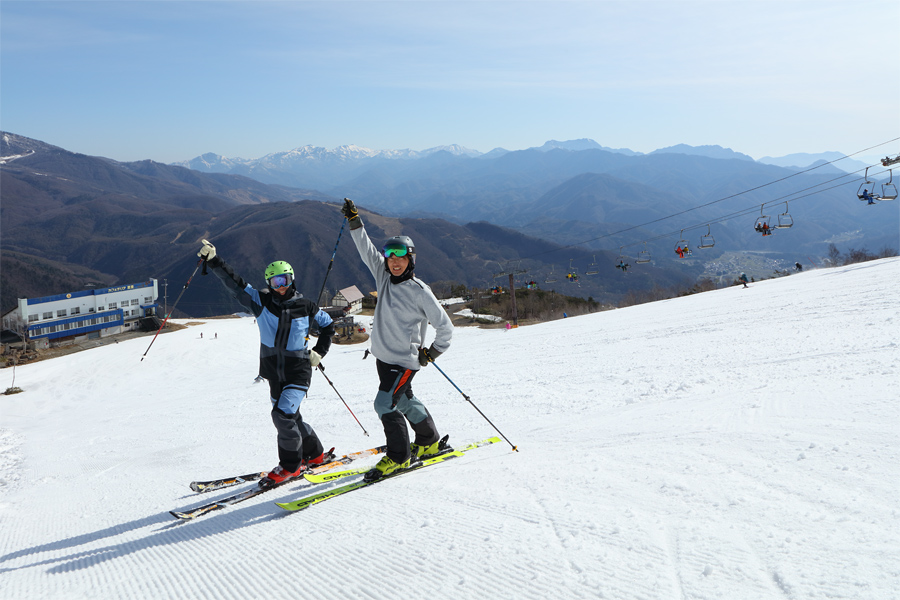 I spoke with two skiers from Tokyo and Aichi Prefecture (pictured), who told me, "We love your site! We've been coming to Happo more than 50 days per season for over 10 consecutive years. Today is likely our last day this season." Separately, another couple who are regular visitors from Aichi informed me that they were fans of the Snownavi site and that today marked their 50th day of the season. They said that they were planning to come back in the fall to climb Mt. Karamatsu.
[Kurobishi Slope]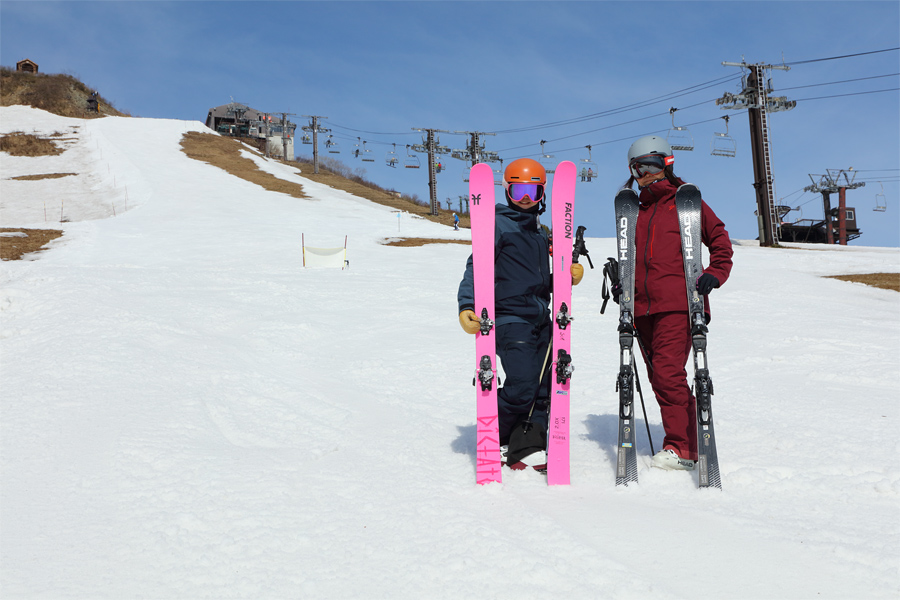 I also caught up with two HAKUBA VALLEY season ticket holders from Aichi and Nara prefectures (pictured) that said they were planning on coming back to ski in Hakuba at the end of April, and would also be skiing at Tateyama and Gassan in May. It was nice being greeted by, and conversing with, so many people on the slopes this morning.
[Usagidaira Slope]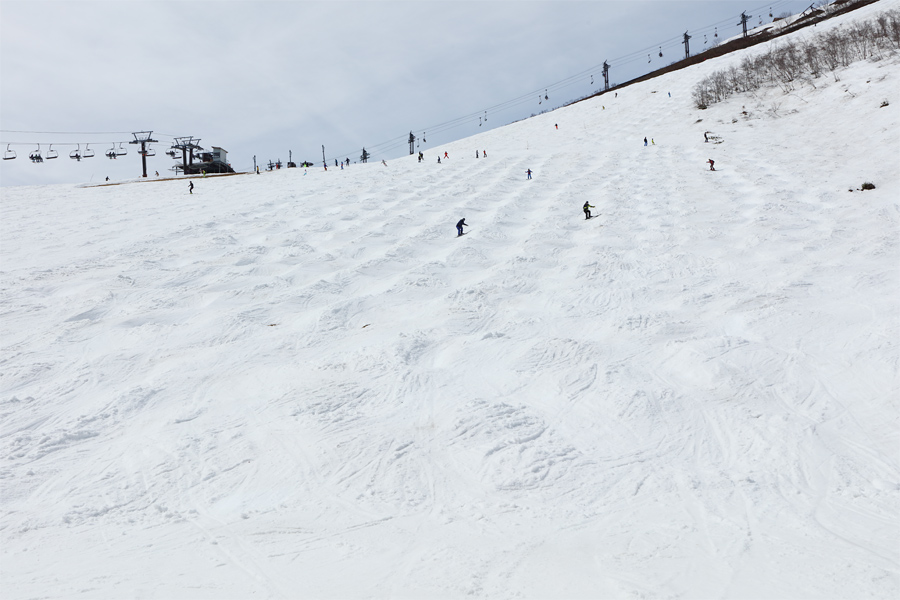 The end seemed to be near for Usagidaira's mogul slope, where the amount of exposed underbursh was rapidly increasing, but the mogul slope over on Kurobishi (pictured) still had some life left in it. The granular snow alongside the Kurobishi 2 Quad was groomed, and most people seemed to head to the west side, where there was still sufficient snow covere. The groomed southern portion of Usagidaira had a loose granular snow surface that stretched to the width of 1 to 1.5 grooming machines. With that said, once more I'd like to express my appreciation to all of you who have taken the time to read the slope resorts again this season! After 4/24 (Mon.), Hakuba Happo-One Ski Resort will remain open as long as there is still snow on the ground!
[Kurobishi Slope]
* Annoucement was made that the Hakuba Happo One Ski Resort will be open until 4/30 (Sun.). Since the planned suspension will be implemented on 4/26 (Wed.) due to the inclement weather forecast, the remaining open days will be 4/25 (Tue.), 4/27 (Thu.) to 4/30 (Sun.).
 
[Happo-One Opening Information for 4/23 (Sun.)]
*Open Course(s) … Kurobishi, Usagidaira, Panorama, Urakuro
*Available Lifts … Gondola (Weekend & Holidays 7:30 a.m.-, Weekdays 8:00a.m.-), totally 6 lifts
*Fees … From 4/22 Special Price Adult JPY4,000, 6-17 y/o JPY1,000, Under 6 y/o Free
*Printable Rental Discount Coupons!
Carving Ski・Snowboard 1-Day Rental Set JPY3,000 / Outerwear JPY2,500!
Carving Ski・Snowboard High Performance Model Rental JPY500 OFF!
Kid's Ski・Snowboard 1-Day Rental Set JPY2,500 / Outerwear JPY1,500!
*Click here to purchase photos found in this report